Channel Island and UK ferry sailings disrupted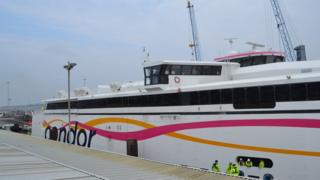 Condor Liberation ferry services between the Channel Islands and the UK have been cancelled on Saturday, following a technical problem with the vessel.
Passengers travelling on the ferry to Guernsey had to wait when it stopped outside St Peter Port harbour for engineers to fix it on Friday.
Condor said there was a fault with one of the lube oil filter on the engine.
Alternative ferry sailings on Saturday have been offered to passengers.
Condor said it would ensure all customers got to their destinations on the same day, but on a different ship and at a different time.
Passengers booked to travel to and from the UK will be able to travel on the Commodore Clipper ferry, while the Condor Rapide will provide sailings to Guernsey.