WW2 veteran from Guernsey gets Legion d'honneur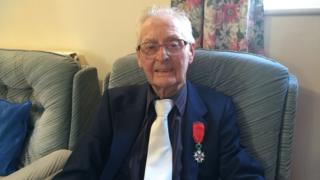 A World War Two veteran has been awarded France's highest honour for his role in the D-Day landings.
Jack Rhodes, 92, received the Legion d'honneur from the Honorary French Consul to Guernsey at La Grande Lande Residential Home.
Mr Rhodes was 20 when his battalion landed at Sword Beach, one of the most eastern sections of the Normandy landings on 6 June 1944.
He said: "The sea was very rough and the Channel crossing was dreadful."
Mr Rhodes, originally from Nottingham, was a member of 1st Battalion, King's Own Scottish Borderers, when he boarded a Royal Navy ship at Southend-on-Sea on 5 June 1944.
He sailed to France with thousands of other British, American and Canadian troops, to invade Nazi-occupied France.
Between 2,500 and 4,000 Allied troops and as many as 9,000 Germans are thought to have died during D-Day, the largest amphibious attack in military history, and one of World War Two's key turning points.
Mr Rhodes said: "The first wave of troops went in and then it was our turn. We received the order to fix bayonets, the ramps of our assault craft went down, and then, 'let's go lads'."
He was later wounded in the approach to the city of Caen and was medically evacuated back to the UK.
Mr Rhodes said: "A lot of my pals would be glad to be here to receive the same thing, but they've all passed on... the ones who really deserve a medal are still over there in the cemeteries."
Acting Lieutenant-Governor Sir Richard Collas said it was "easy to forget" that some Guernsey residents had helped to shape Europe's history, describing Mr Rhodes as "one such man".
The French government announced on the 70th anniversary of D-Day in 2014 that it would award all surviving veterans with the Legion d'honneur.