Aurigny no-confidence vote rejected by Alderney States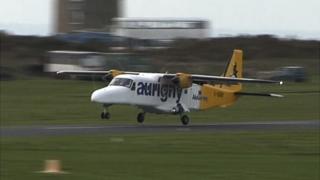 The only airline operating between Guernsey and Alderney has survived a vote of no confidence.
A no-confidence vote in the management of Aurigny and its ability to provide a proper air service was rejected by a vote of 6-4 in the States of Alderney.
Alderney States member Steve Roberts led the requete [motion] saying the airline had let the island down.
Aurigny said it remained "absolutely committed to providing Alderney with a safe and efficient air service".
'Lives at risk'
Mr Roberts told the States: "We have been down to one aircraft servicing this island, on countless occasions, causing delays and havoc to our services."
He said: "The management has failed and damaged the economy and is placing lives at risk through lack of cover on a daily basis."
Mr Roberts, who worked at Alderney Airport for 20 years, said if Aurigny could not provide a plane for an urgent medical evacuation (medevac) then it could cost someone's life.
Aurigny said: "We have always refuted a number of the assertions contained within [the requete], particularly that any of our flights have been unsafe or that our ability to operate medevac flights to Guernsey has been compromised."
Before the vote States member Neil Harvey described it as "ill-timed" and said it could harm the improving relationship between the island, Aurigny and its owner, the States of Guernsey.
A memorandum of understanding agreed in December involved Alderney States underwriting an additional 2,400 seats on flights between the islands and set out fare bands and the airline committed to provide regular updates on punctuality and reliability.
Aurigny said its focus would now be on delivering the services promised in the memorandum, while Mr Roberts said he would keep campaigning for a better service.