Rescued Guernsey seal Bonnie defies death fear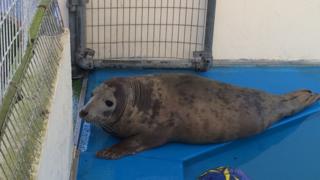 An emaciated seal pup which rescuers feared would die is putting on weight and gaining strength.
Bonnie the grey seal was found on the Guernsey coast in January weighing 14kg (31lb) when she should have been 40kg (88lb).
Guernsey Society for the Prevention of Cruelty to Animals (GSPCA) said Bonnie had been using the rehabilitation pool in preparation for her release.
The GSPCA hopes to put her back in the wild in early spring.
GSPCA manager Steve Byrne said: "If our ambulance driver Geoff hadn't scaled down the cliff to get to her and rescue her she wouldn't have made it through the night.
"Bonnie was extremely emaciated and had a few other injuries, we're so pleased to see how well she is getting on.
"She's been putting on weight every single day."