Guernsey ambulance proposals get States approval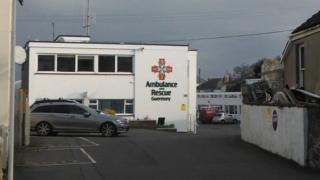 A decision on the future of Guernsey's ambulance service should be made before the end of the year.
States members agreed to transfer responsibility for paying for it from the island's health authorities to the Home Department in a 36-6 vote.
The move will put all emergency services under one department.
The health service will continue to have clinical oversight and has been tasked with producing a report into the ambulance service's future.
It will look at plans for the ambulance service to share the fire station at the Arsenal and whether training for more patient home care could see fewer patients in hospital.
The report is due back later this year with the budget transfer not taking place before January 2017.
Stability for staff
Jon Beausire, chief officer of St John Ambulance and Rescue Service, said: "With the use of technology and the enhancement of skills, the future will see more people treated in their own homes by paramedics rather than automatically being taken to hospital by ambulance."
Under its £2.6m contract with the States St John Ambulance and Rescue provides a road ambulance service including paramedics, a patient transport service, marine ambulance, a community first responder scheme and an ambulance reserve.
St John separately provides cliff rescue and inshore rescue services and first aid cover for events, all of which is provided by volunteers.