Alderney given more control of finances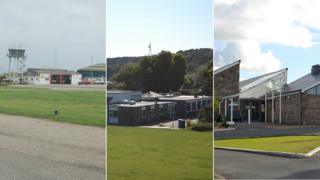 Alderney is to be responsible for funding more public services under changes to an agreement dating back to World War Two.
The 1948 Agreement between Guernsey and Alderney was drawn up to help its economy recover after it was evacuated and heavily fortified by the Nazis.
Moves to give Alderney more control were recommended by a review of the islands' financial relationship.
The changes were unanimously approved by the States of Guernsey.
Currently Alderney's income tax and social security contributions are paid to Guernsey and used to fund most public services in Alderney.
Under the changes Guernsey will fund transferred services and social security payments through income tax and contributions, while other income will be used by the States of Alderney to fund all other public services.
Guernsey Income:
Income Tax and Social Security Contributions
Guernsey Expenditure:
Legal aid, overseas aid, external relations
ICT, property services, civil service, pay for Alderney States representatives to States of Guernsey
Education, health, law enforcement
Alderney Airport and the Breakwater
Social security payments
Alderney Income:
All other levies, rates, taxes, permit fees, rents, duties and other income collected from sources based in Alderney - including tax on real property, occupiers' rates, import duties and excise duties, document duty and company registration fees
Alderney Expenditure:
All other public services, including the harbour, drainage (foul and surface water), roads, coastal defence, water and electricity
The States also agreed for a report considering further tax measures, including targeted tax relief schemes, and other relocation incentives, that could help increase economic activity in Alderney and encourage population growth to be carried out ahead of the budget for 2017 being decided.