Guernsey's Lieutenant Governor: Vice Admiral Ian Corder appointed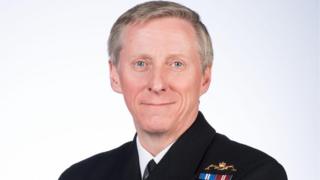 The UK's military representative to Nato and the European Union has been appointed as the Lieutenant Governor of the Bailiwick of Guernsey.
Vice Adm Ian Corder CB is due to be sworn into office on 14 March, but will continue to serve in Brussels until June.
His appointment, approved by the Queen, means he will represent the monarch in the islands.
Vice Adm Corder said: "I am deeply honoured to have been selected."
"I first visited the Bailiwick in childhood and had always hoped sometime to come back for longer," he added.
The 55-year-old has held his current role since May 2013 and during his 38 years in the Royal Navy has served on submarines and surface warships.
Recruitment for the next Lieutenant Governor started in November following the sudden death of Air Marshal Peter Walker in September.
Sir Richard Collas, Guernsey's Bailiff and acting Lieutenant Governor, said it had been an "honour to fulfil the duties" and he was "delighted" by the appointment.
He said: "It is unprecedented in modern times for a lieutenant governor still to be serving as a senior officer in one of the armed forces.
"However, it will be beneficial that he takes up his new duties in advance of the General Election to be held on 27 April."
Vice Admiral Ian Corder CB
Educated at Rugby and Peterhouse, Cambridge
Joined the Royal Navy straight from school in 1978
Studied pure mathematics at Cambridge University
Joined the Submarine Service as an operations and navigation specialist
Operational service in the south Atlantic, the Norwegian Sea, the Mediterranean, the Pacific, the Indian Ocean and the Arabian Gulf
Commanded two submarines; diesel powered HMS Oracle and nuclear-powered 'hunter-killer' HMS Splendid and the frigate HMS Cumberland
His roles have included responsibility for the continuous operation of the UK's force of four ballistic missile submarines and their Trident missiles
Deputy commander of Nato's Naval Striking and Support Forces
Royal Navy's Commander of Operations for two years, from 2011-2013, which included the 2011 Libyan Crisis and the Royal Navy's support to the 2012 London Olympics
He was appointed a Companion of the Order of the Bath in 2013
Vice Adm Corder is married to Kathryn, a recently retired nurse. They have two grown up sons, Andrew, a management consultant, and Alexander, an infantry officer
Sir Richard said he would continue to share the duties and responsibilities of Lieutenant Governor while Vice Adm Corder was still serving.
"Vice Admiral Corder will spend as much time as possible in the Bailiwick; for example, he and Mrs Corder very much hope to be with us on Liberation Day," he added.
Guernsey's Chief Minister Jonathan Le Tocq said: "I recently had the pleasure to meet with Vice Admiral Corder and I am of the belief that he will be well placed to fit into island life and his new duties.
"The recent experience of working in Brussels and on international matters will, I believe, be particularly helpful."