Ferry firm Bumblebee pulls out of Alderney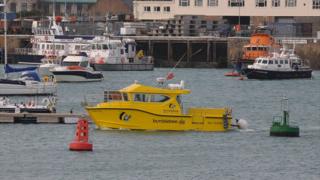 A ferry company serving the Alderney-Guernsey route is pulling out after four seasons.
Bumblebee Boat Cruises said it would no longer be operating its Bumblebee vessel, which has also been used for cruises and charters.
It is blaming a lack of government support for plans to expand its service between the islands.
Plans for a 140-seat fast ferry relied on a £1.4m loan being guaranteed - which was rejected in November.
No other companies operate regular services on the route. A plan by Sark Shipping to start on the route was put on hold owing to issues over international regulations.
Dan Meinke, managing director, said the process, which started two years ago, had been "uphill struggle all the way".
The plans were put forward in response to a tender put out by the States of Alderney, which approved the business case the company put forward, but a decision on guaranteeing the loan would need Guernsey States approval.
Mr Meinke said of the States of Alderney: "It is by no means clear that they really want a ferry, even though they initiated the tender process."
He said the company remained open to further discussions and was "poised ready" should the States want to work with the firm in the future.
Director Chris Meinke said "It's such a shame. We love Alderney and we've worked hard to support it and its events and its charities. We thank all our loyal supporters who have spoken up for us and travelled with us over the years."