Guernsey business visitors down 39% in 2015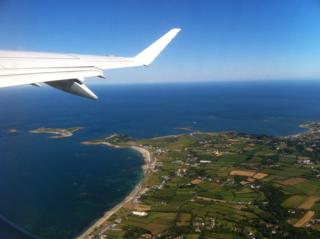 The number of people coming to Guernsey on single-day business trips has fallen for the third year in a row.
The 2015 Travel Survey showed that only 13,100 business visitors came for a day in 2015, compared to 21,600 in 2014 - a drop of 39%.
Overall, there were 11,000 fewer business visitors last year.
Tony Rowbotham, chairman of Guernsey's Chamber of Commerce, said it was "massively disappointing" and blamed "uncompetitive" transport links.
Visitor numbers stable
He said: "We are price uncompetitive on our flights compared with our jurisdictions and that's the feedback we've been getting for the past two years.
"Chamber members [say] they are finding it difficult to get clients to come here; those clients feel we are too expensive and expense is comparative, whether you like it or not, we are compared against other jurisdictions."
The survey showed visitor numbers were up annually by 0.8% on 2014, but down by 7.8% in the final quarter.
States director of marketing and tourism Mike Hopkins said it had been "a difficult few months" with the fourth quarter figures "disappointing, especially after a very strong first half of 2015".
He said: "The healthy performance of cruise passengers and visitors visiting friends and relatives during the second half of 2015 has helped to keep overall visitor and staying visitor numbers up in the 2015 calendar year versus 2014."
The last increase in single-day business trips was in 2012, when numbers rose by 1% to 33,900.