Guernsey 'white van man' impact to be measured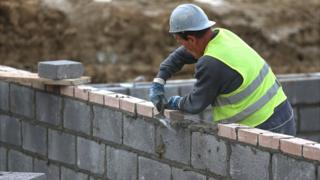 A scheme to measure the impact of tradesmen visiting Guernsey for work should be introduced this year.
The impact of so-called "white van man" culture - tradesmen visiting the island - is currently unknown.
Deputy Laurie Queripel campaigned for protection for local traders and said about 600 non-island trade vehicles were reported in the past three years.
The Commerce and Employment Department said the scheme had been delayed while it focussed on issues with ferry links.
In its response to written questions from Deputy Queripel, it said the aim had been to introduce a voluntary registration system for tradesmen last year.
However, it decided to delay introduction of the scheme following difficulties experienced by Condor Ferries in the introduction of the Condor Liberation, which have seen services heavily disrupted.
The department said the cooperation of Condor Ferries, which operates the only passenger service between the Channel Islands and the UK, would be needed to run the scheme.
Voluntary registration system
Those registered will be given a document to display in the window or on the dashboard of their vehicle
Spot checks will be carried out on non-registered vehicles
The department hopes it will provide details of the number of contracts agreed before tradesmen come to the island compared to those who intend to pick up work once in the island
The department said the impact of non-local traders was not clear, but an investigation in 2014 found it was between 0.3% and 6.2% of the sector's output, adding a "significant proportion" of these were likely to be in the island for "legitimate trading purposes".
It said this includes those working as a sub-contractor for a local firm on large projects and specialist contractors able to provide a service not available on island.