L'Ancresse Common may come under Guernsey States control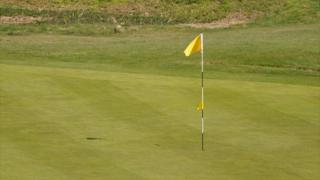 Guernsey's government could take over the running of sport on L'Ancresse Common after the failure of negotiations with two golf clubs.
A 70-year lease for the golf course between the Vale Commons Council and the Royal Guernsey and L'Ancresse clubs ends at the end of this year.
Years of negotiation have failed to reach a new agreement.
Under the proposals, the States would agree activities and fees but the council would still receive the money.
The Vale Commons
Covers about 740 vergees (a vergee equals 17,640 sq ft, 1,639 sq m or 0.405 acres) including open spaces and large areas of gorse and other important wildlife habitats
About 370 vergees are used for playing golf, which has been played on the common since at least 1890
It includes 10,000 sq m of car parks and 7,000 sq m of footpaths and tracks
It has important historical sites including Neolithic sites and fortifications from the Napoleonic era and the German occupation during WW2
It is managed by the Vale Commons Council, which is elected by inhabitants of the Clos du Valle - an area in the north of the island that was previously separate from the main island
In its report, the Culture and Leisure Department said a deal needed to be brought in to "secure the future of Guernsey's only championship golf course".
It said: "This agreement needs to reflect commercial, fair and affordable terms, as would be the case with all other sports. The need to resolve the situation is now an urgent priority."
The changes to the Vale Commons Ordinance 1932 will be debated by the States in March.
The department said the issue of the upkeep of the common and additional questions over the "relatively small number of people" who claim the ancient rights to cut furze on the common could be looked at in the future.
Further updates to the law should be expected within the next few years to reflect modern health and safety and environmental standards, it added.