Housing scheme in Jersey can 'distort the market'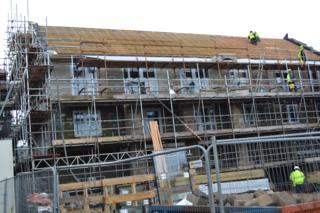 Guernsey's partial ownership housing scheme has been criticised for "distorting the market", after few buyers moved on to the private sector.
Since 2010, only twelve of 148 households bought through the Guernsey Housing Association (GHA) scheme went on to purchase private houses.
Deputy Heidi Soulsby said "other solutions" were needed to help buyers get on the property ladder.
However, the GHA said it was not competing with the private market.
The partial ownership scheme allows first-time buyers to purchase between 40 and 80% of a property from the GHA, and a discounted rent is charged on the remaining value.
Buyers can purchase additional shares in the property at a later date up to a maximum of 80%.
Private sector
Deputy Soulsby said the lack of partial home owners moving into the private housing sector proved the model caused a blockage in the market.
However, Steve Williams, chief executive of the GHA, said the scheme was "working really well" and the GHA was "very keen" to encourage people to move into the private sector.
He said: "We're aiming at people who can't afford to get the full deposit and they can't afford to get the full mortgage to buy in the normal market."
Houses are bought on a 125-year lease and there are currently 219 people on the scheme's waiting list.