Guernsey money laundering fines could rise to £4m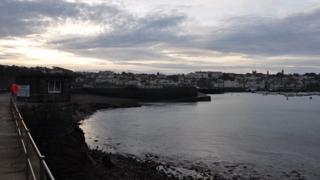 Maximum fines for money laundering and terrorism financing in Guernsey could increase from £200,000 to £4m, if the States agrees.
It follows criticism of the island's sanctions by Moneyval, part of the Council of Europe, in a report released last week.
It described them as not "dissuasive and proportionate" based on the size of the island's finance sector.
Higher penalties for licensees will be limited to 10% of annual turnover.
The fines can be levied for failing to carry out checks on customers, not carrying out regular risk reviews and failing to make the disclosures necessary under Guernsey law.
Proposed financial penalties
Increase maximum level of fines for licensees and former licensees (other than personal fiduciary licensees) from £200,000 to £4m, with any fine over £300,000 being limited to a maximum of 10% of turnover
Licences approved by the Guernsey Financial Services Commission can be held by companies or individuals
Raise maximum level of fines for relevant officers and personal fiduciary licensees from £200,000 to £400,000 - with profit made from role to be taken into account
The proposals compare to fines of 5,000,000 euro or 10% of the total annual turnover of a credit institution or financial institution across the European Union.
In Jersey there are three levels of fines with the highest being 8% of relevant income up to a maximum of £4m.
The Policy Council, which has brought forward the proposals, said the Guernsey Financial Services Commission and Guernsey International Business Association have been involved in the development of and support the changes.
The council's report said: "It is clearly important to be able to strike the right balance between ensuring that, on the one hand the Bailiwick's regulatory regime is underpinned by an effective and proportionate approach to enforcement, and on the other hand that firms are able to obtain the services of good quality people as directors and other officers."
The proposals do not address the other main criticism of the Moneyval report - that the number of investigations, prosecutions and convictions for money laundering in the Bailiwick are "disproportionately low" compared to other jurisdictions.
The proposals will be debated at the next States meeting, which starts on 26 January.