Aurigny to end Guernsey-Jersey route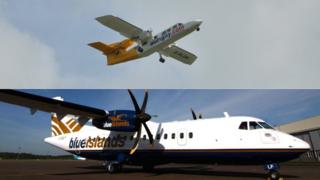 Airline operator Aurigny will stop offering flights between Guernsey and Jersey when an agreement ends in March.
Blue Islands currently operates flights between the islands on behalf of the two airlines under a two-year deal that runs out on 16 March.
A joint statement said the decision not to continue the code-share agreement had been mutual.
Aurigny said passengers due to travel between 17 and 26 March would be rebooked automatically.
Those travelling after 27 March will be contacted by Aurigny and given the option of being booked on a Blue Islands flight or having a full refund.
Aurigny, which was bought by Guernsey's government in 2003, has been operating since 1968 and offers flights between the islands, UK and Europe.
'Risk to service'
Treasury and Resources Minister Gavin St Pier, who is one of the States nominated shareholders, said it was not clear if a possible franchise agreement between Blue Islands and Flybe would impact the service.
He said: "There is no commercial imperative for Aurigny to operate the inter-island route and, of course, that was the reason for the code share in the first place.
"There was too much capacity on that route, which meant it was uneconomic for two airlines to operate.
"The inter-island route is not a lifeline route, but we have categorised it as being a strategic link, which means it's important for us economically and socially."
"Clearly, we as an island and as a community cannot afford any risk to service levels... meaning frequency, capacity and fares.
"If those or a combination of those were to deteriorate it would have serious implications.
"So we have asked Aurigny to prepare a contingency plan to fully re-enter the route, but of course that would be a significant commitment and no doubt require additional aircraft."