Guernsey Water sewer work likely to cause 'disruption'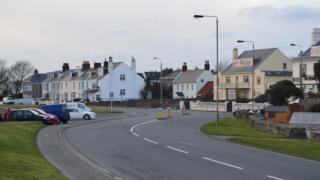 Commuters travelling between Guernsey's most heavily populated parishes face disruption from Monday.
Guernsey Water is building a sewer crossing as part of a project to improve water quality and reduce the risk of flooding around the harbour.
The work will see Bulwer Avenue junction at Richmond Corner restricted to one lane traffic.
It is expected to take about three weeks and Guernsey Water says it is likely to cause disruption.
A spokeswoman for the firm said contractors would be on site between 07:30 GMT and 18:00 GMT during the week and until 16:00 GMT on Saturdays.
They will also be working on Sundays between 09:30 GMT and 15:00 GMT.
Catherine Harris, project engineer for Guernsey Water said: "There is never an ideal time to undergo this work.
"We will also endeavour to make sure that noise levels are minimal during the earlier hours of the day."