Cruise liner charges in Guernsey to rise over two years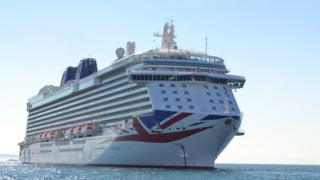 Cruise liner anchorage charges will increase this year, with passenger landing fees rising next year, Guernsey Harbours has said.
The cap on anchorage fees will rise from £1,000 to £1,500, and fees will rise 0.01p to 5.9p per gross tonne.
A new cruise passenger landing charge of £1 per person will also be introduced in 2017.
Director Sarah McGreevy said "cruise visitors directly contributed around £4m to the economy in 2015".
She said the cruise liner business was growing "both as an industry and in terms of the financial benefit it provides to Guernsey" and the changes would provide "additional income".
In 2015 anchorage charges brought in £90,000 for Guernsey Harbours, and the changes are expected to increase revenues by around 25% this year.
Bruno Kay-Mouat from cruise liner handling agent Allied Coaster said the increased charges would "be beneficial to the industry as a whole" since they would be invested in cruise ship facilities on the shore.