Storms wash up birds and oil along Guernsey's coast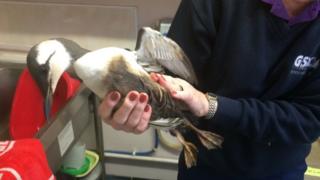 Stormy weather has washed up dozens of seabirds and lumps of a white waxy substance along Guernsey's coast.
The States said the white lumps, which could be degraded oil or fat, have been reported in Grandes Rocques Bay and could pose a risk to dogs if eaten.
Animal charity GSPCA said birds have washed up covered in oil that has been stirred up from the sea bed.
The organisation said many more birds have probably died after washing up in inaccessible coves.
'Fate sealed by storms'
Oiled seabirds, mostly guillemots, have been found at Petit Port, Cobo, St Peter Port and at L'Ancresse.
Steve Byrne, GSPCA manager, said the oil had come from boats and ships in the English Channel over many years.
He said: "The weather has churned up the sea and brought the oil to the surface.
"Birds are tired in the stormy conditions and they can't care for themselves and either die or end up being rescued."
Elsewhere, Jean Bradford, from the South Devon Seabird Trust, said she has been told about a "handful" of oiled birds that have washed up at sites including Chesil Beach in Dorset and Whitsand Bay in Cornwall.
She said: "Most of them have died before reaching us.
"They were covered in oil, but I think battling against the stormy weather sealed their fate.
"If walkers find an injured bird, I would urge dogs to be kept away, as they often drive them back into the sea and the birds just go under the water because they cant fly."