New motor emission tax plans in Guernsey a 'compromise'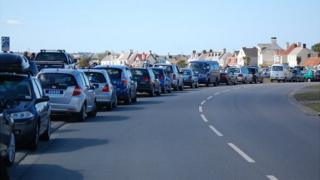 New tax plans for motor emissions have been labelled a "compromise after two long years" by a motoring association.
The tax rate will depend on the vehicle's carbon dioxide emissions, and owners will pay it when they register their vehicle in Guernsey.
President of Guernsey Motor Trades Association, Dave Beausire, said a charge for "all road users" would better improve air quality.
But the Environment Department said the tax would fund transport reforms.
The States of Guernsey voted in 2014 to spend £4m a year on measures to reduce car use.
Previous proposals by the States have included reinstating motor tax which was scrapped in 2008.
Emergency service vehicles, tractors, racing cars and vehicles converted for use by people with disabilities would be exempt from the duty.
However, Mr Beausire said the plans would still encourage "the use of low emission vehicles which all manufacturers have been delivering for many years".
The proposals will be debated in the States in February and are intended to come into force in May.