Guernsey ambulance proposals may mean fewer in hospital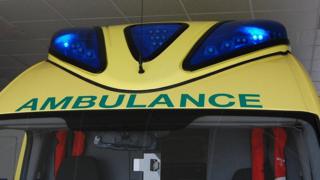 A proposed overhaul of Guernsey's ambulance service could see fewer patients taken to hospital with more investment for frontline treatment.
The proposals, which recommend training for more patient home care, follow a review into the service over funding problems in 2014.
John Hollis, who led the review, said the changes were to accommodate "an aging population".
Plans could also see ambulance crews sharing fire service headquarters.
Mr Hollis said the service, run by St John Ambulance and Rescue, needed to move away from "assuming the default is simply to take [patients] to hospital".
He said home treatment was "in some instances safer, it's more convenient and it's more cost effective".
A new contract worth £2.6m was negotiated by Guernsey's emergency panel, the Civil Contingencies Authority, in 2014, following a shortfall in funds for the ambulance service.
Health Minister Paul Luxon said that the pooling of resources between the fire and ambulance services could bring "additional costs", but he said there would also be "cost savings".
The plans also recommend that the Home Department funds the service, rather than the Health and Social Services Department (HSSD) which currently has responsibility.
The proposals will be put to the States of Guernsey in February.