Guernsey waste export station plans submitted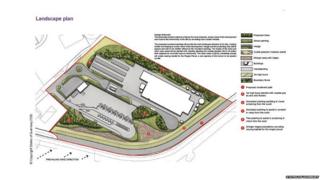 Plans for a transfer station for the export of Guernsey's rubbish have been submitted.
The building capable of handling 32,500 tonnes of waste a year, and turning much of it it into a fuel, will be built at Longue Hougue, St Sampson.
Currently the island's waste goes to landfill, but a new strategy of increased recycling and exporting the remainder was agreed in 2012.
As well as planning approval, the site needs a waste licence to operate.
If approved construction work would start in early 2017 with the station due to open in 2018.
The site would include facilities to deal with 4,000 tonnes of food waste and 2,500 of glass recycling.
Export of waste
Household rubbish and recycling continues to be collected from kerbside
It will be treated alongside commercial waste
Waste will be shredded and metals removed for recycling
The remaining material will be formed into cube-shaped bales, about 1m (3ft) square, and wrapped in plastic film
The bales will be put in sealed shipping containers - with storage for 150 containers
Shipments are expected every four weeks with containers transferred to St Peter Port Harbour ready for loading
The plans include building a 7,000-tonne per year household waste recycling centre next to the transfer station to replace the current site at Longue Hougue.
The detailed proposals will be made public, including a weekend drop-in session at Beau Sejour on 15 and 16 January, and will be open for comments for 12 weeks.
It is still not clear where the refuse-derived fuel will be exported to, but a tender has gone out for a supplier.