Condor Ferries passenger views sought over delays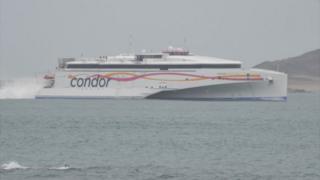 Condor Ferries customers are being asked to report experiences following months of delays and cancellations.
The Jersey Consumer Council (JCC) said it was consulting passengers after hearing of a "catalogue of unfortunate problems".
The operator has suffered a series of setbacks since its £50m high-speed ferry, Liberation, launched in March.
High-speed sailings between Poole and the Channel Islands have resumed after being cancelled due to strong winds.
The firm said conditions in the English Channel were outside its operating limits on Tuesday, leaving it with no choice but to stop the sailings.
Anne King from the JCC, an independent consumer group, said they had started an online survey to build a true picture of the customer experience of service and communication.
"There has been a complete blend of people complaining about Liberation not being suitable, delays and breakdowns - a catalogue of unfortunate problems," she said.
Ms King said the results would be collated and fed back to Condor, the Ports of Jersey, and States of Jersey by the end of January and the council "expected a response".
"We would expect them to respond where improvements may be made as appropriate," she said.
'Significant investment'
Alicia Andrews, from Condor Ferries, said: "We are disappointed that the JCC feels that we have not engaged with them.
"Not least because we met with them just a few weeks ago and in fact we send them detailed updates from the company every week, sometimes several times a week.
"The contingency plans have included a significant investment by Condor Ferries in a charter ship, the MV Arrow maintaining the freight services, and we have continued to keep freight and passenger movements going throughout the recent weeks."
She said the company already spends tens of thousands of pounds on independent market research.
"Our customer satisfaction survey, on average, surveys about 10,000 people who travel with us every year and that actually includes over 5,000 islanders.
"The company pays a great deal of attention to the results in terms of formulating plans for improvement and taking lessons we should learn from it."