Patients moved as Guernsey hospital ward is closed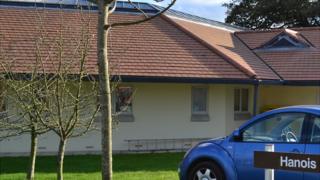 A lack of nurses trained to deal with older patients has led to the temporary closure of a Guernsey hospital ward.
The Casquets Ward at the Princess Elizabeth Hospital will be "temporarily rested", according to the Health and Social Services Department.
Patients will be moved to other wards so they can "continue to receive the care they need from staff who are skilled to provide it".
The department said patients and their relatives had been told of the changes.
'Short-term factors'
Fiona Robertson, service manager for older people, said: "It has been a challenge... to recruit appropriately skilled registered nurses - a challenge that is not unique to Guernsey.
"The situation has been temporarily compounded by a number of short-term factors such as staff sickness, holidays and maternity leave.
"Having reviewed the services provided, we have decided that our older people can best be looked after in other care areas and we will temporarily rest Casquets Ward."
She said: "This will allow the release of established skilled nurses to be redeployed across the service ensuring safe and appropriate care is provided to all service users."
Minister Paul Luxon said: "The most important thing is that our older service users, their families and loved ones can be assured that they will get the care they need. This temporary move will do that."