Alderney 70th homecoming anniversary marked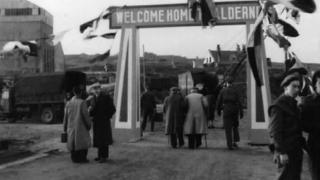 A commemorative plaque marking the 70th anniversary of the return of islanders after the German occupation has been unveiled in Alderney.
The Channel Islands were the only part of the British Isles to be occupied by enemy forces during World War Two.
Jersey, Guernsey and Sark were liberated in May 1945, but the people of Alderney were not able to return home until 15 December.
Other events will include a musical play written for the anniversary.
In June 1940 the entire population of Alderney - about 1,500 people - were evacuated to the UK on six ships.
Shortly after Germans soldiers arrived on the island they set up concentration and forced labour camps where hundreds of workers died during the occupation.