Sark Chamber of Commerce president Alan Jackson resigns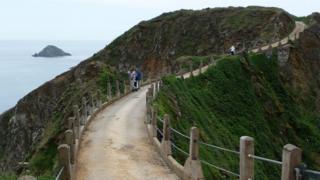 The President of Sark's Chamber of Commerce has announced his resignation and closure of his business.
Alan Jackson said he was "at a genuine loss" to see how the island's "failing economy and worsening social situation" could be resolved.
He criticised the island's government, Chief Pleas, for not accepting what he says is the reality of Sark's situation.
The government has said it will not comment on the issue.
In the letter to the Chamber committee and members, Mr Jackson said: "The reality of Sark's failing economy, and its worsening social situation, is abundantly clear to those that have spent time living here.
"I believe the main problem for Sark is that its small size, now less than 500 residents and falling, precludes it from creating any reasonable framework of effective oversight of the government's actions.
"Asking Aunt Flossie to comment on her nephew's alleged misuse of millions of pounds of taxpayers' money is unlikely to produce a meaningful response in any country," he said.
He called for "effective independent oversight" and added "a legitimate Sark is necessary for legitimate business to flourish".
The recent decision made by the Crown to reject calls for intervention, Mr Jackson said, was a mistake, adding that it is in Guernsey and Jersey's interests for their own reputations that a solution be found.
Lorraine Southern, Secretary of Sark Chamber of Commerce, said the council had elected Anthony Ventress as acting president until the Annual General Meeting due to be held in March.