First Bailiwick Council meeting held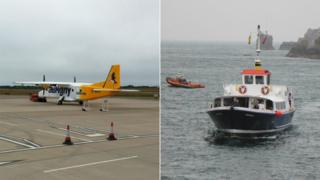 The first meeting between Guernsey, Alderney and Sark politicians has been described as "historic".
Previously, Guernsey deputies had only met separately with the representatives of each island.
The Bailiwick Council aims to discuss common challenges and opportunities faced, improve communication, international profile and identity.
A statement from Guernsey's Policy Council said politicians had found a "great deal of common ground".
It said the council would also help improve the relationship between Alderney and Sark.
The meeting was reported to included discussions about Bailiwick, international and constitutional issues; the social and economic impact of an aging population, shared roles and business development, fisheries, transport links and the EU referendum in the UK.
The council is due to meet again during the first three months of 2016.
The Bailiwick of Guernsey includes the islands and islets Guernsey, Alderney, Sark, Brecqhou, Herm, Jethou and Lihou.