Guernsey States agree end to Sunday trading controls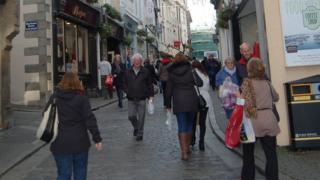 Any shop in Guernsey will be allowed to open on a Sunday from this weekend, after an attempt to keep controls in place failed.
The States voted to repeal the current law on Friday, after a move to reform the current system was rejected by 24 to 22 votes.
It means an end to controls on the size of shop that could open and opening hours, introduced in 1911.
It is not yet clear which shops will open on Sundays following the change.
Before the debate, 69 businesses signed a petition against the deregulation of Sunday trading.
This is more retailers than responded to a public consultation earlier this year.
Then, of the 59 business owners who responded, 53% said they would like to be able to open on a Sunday, while 46% believed opening on a Sunday would economically benefit their business.
The reform of the system was rejected at the States September meeting, but opponents of deregulation were critical of a guillotine motion that cut short debate and so put it forward for debate again.
Deputy Al Brouard, who was behind both attempts, said the controls on Sunday opening "kept Guernsey special and different" and believes it is the small retailers who will lose out the most.