Aurigny flights to Alderney due to get 2,400 more seats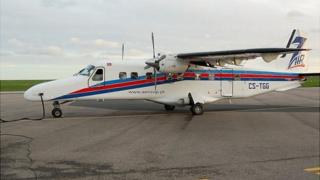 The States of Alderney has agreed to underwrite an additional 2,400 seats for up to £50,000, on flights between Alderney and Guernsey and Southampton.
The number of seats was agreed in a memorandum of understanding between Alderney, Guernsey and airline Aurigny.
Prices and service levels were also set out for 2016, according to Alderney's Policy and Finance Committee.
Chairman of the committee, Neil Harvey, said the challenge was now "to fill the extra seats".
Flights on the Trislander fleet of the Guernsey States-owned airline Trislander fleet have been delayed this year due to technical faults.
The third Dornier plane due to replace the Trislanders will arrive in the next few weeks.