Guernsey Bailiff unveils statue of a donkey in St Peter Port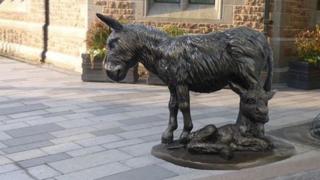 A bronze life-size statue of a donkey and her foal has been unveiled in Guernsey's capital, St Peter Port.
The statue was commissioned by the Adult Literacy Project which hopes to raise money through related merchandise.
Mr Cook said the statue could be seen in the future as "Guernsey's answer to the Statue of Liberty".
The design was based on a local donkey called Matilda with clay, wood and metal used for the mould.
The donkey is one of the national animals of Guernsey, traditionally used as beasts of burden for transport on the steep streets of St Peter Port.
Donkey is also a nickname for Guernsey people, used mainly by Jersey residents because Jersey did not traditionally have any of the animals.
The statue, which is in Market Square, St Peter Port was unveiled by Bailiff Sir Richard Collas.