Channel Islands Air search plane replacement 'due in 2016'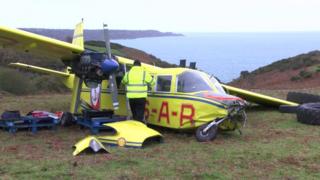 A permanent replacement for the Channel Islands Air Search (CIAS) plane, which crash landed in 2013, will be in place by the end of next year, it is claimed.
The plane was heavily damaged landing on Jersey's north coast in November in 2013 while searching for two fishermen.
Colin Ferbrache, chief officer, said: "It's taken a lot longer than we had hoped."
Currently the charity is using a lease plane without search equipment.
Mr Ferbrache said: "It is quite difficult ensuring that what we will get is an aircraft that will keep us equipped for many years to come."
"Although we can go out on searches during the day and by night when we've got a good moon... it doesn't give us the full capability which we were used to in the past."
The previous plane was equipped with radar, thermal imaging, a droppable raft, a homing system, smoke floats and a spotlight.