Guernsey airline Aurigny made a loss of £3.5m in 2014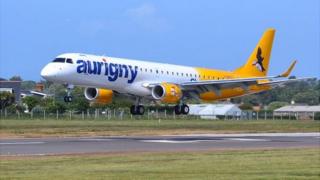 Aurigny airline made a loss of £3.5m in 2014, its fully published financial accounts have shown.
The company has been loss-making for all but two years since it was bought by the States of Guernsey in 2003.
Expected debts of £25m by 2018 are due to be written off by the government.
Mark Darby, CEO of Aurigny, said "our trading position improved considerably in 2014", with operating losses down from £2.3m in 2013 to just over £777,000.
Mr Darby said that Flybe's withdrawal from the Gatwick route and Aurigny's acquisition of an Embraer 195 jet contributed to a 17% increase in passenger volumes and a 29% increase in turnover.
He said the company also benefited from lower oil prices in the second half of 2014.
The Treasury and Resources Minister, Deputy Gavin St Pier, said: "The Department, acting as shareholder on behalf of the States as a whole, has previously committed to reviewing with Aurigny whether its accounts could be published in full and is pleased that Aurigny is now releasing the Group's accounts for 2014."
He said that operating losses had been offset by the cost of the new jet and the new route to London City airport launched last year.
A recent review by a Scrutiny Committee panel into the security of the strategic air links of Guernsey found that the States were failing to manage the airline.