Aurigny rebrand as Guernsey airline 'back on States agenda'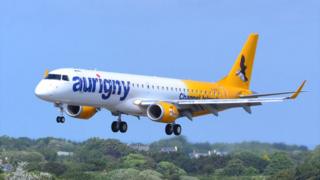 Another call for a rebrand of the States-owned airline Aurigny will be voted on by the States of Guernsey.
Deputy Darren Duquemin believes a name change should take place so the airline is "clearly positioned as a Guernsey airline".
He made the suggestion two years ago when it was sidelined, but had brought it back as part of a debate on paying off the airline's debts.
An Aurigny spokesman said a rebrand would not represent "value for money".
He said: "Rebranding would, we estimate, cost in excess of £750,000 because, as well as aircraft livery changes, it would also involve changing ground vehicle paint schemes, manuals, signs, uniforms and stationery.
"Aurigny lacks the in-house expertise to carry out the exercise itself so agency costs would add to the overall figure.
"In terms of brand awareness, we have a website that is optimised to show in the top three or four Google searches when the words "Guernsey + flights" are entered.
"We see rebranding as a distraction from our core business of flying passengers safely to and from Guernsey and Alderney and also an erosion of a brand that is nearly 50 years old.
"But, like many decisions surrounding the airline's activities, re-branding, or otherwise, is ultimately a shareholder decision."
Aurigny is the Norman word for the Channel Island of Alderney.
The airline was launched in 1968 and it was bought by the States in 2003 in a bid to secure the island's air links to London Gatwick.
Under Mr Duquemin's proposal the rebrand would coincide with the airline's 50th anniversary on 1 March, 2018.
The item is due for discussion in this month's States meeting starting on 25 November.