Alderney ferry bid continues despite loan rejection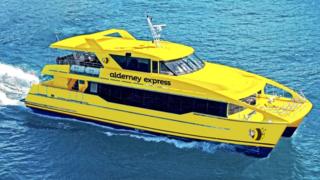 Plans for a bigger ferry for Alderney will continue despite a setback in getting the set-up costs needed.
Ferry firm Bumblebee had asked the States of Guernsey to guarantee a £1.4m loan to purchase a 140-seat fast catamaran.
Guernsey's treasury department rejected the bid, citing an "optimistic" business case.
Dan Meinke, of Bumblebee, said it had not given up on the plans and would look at alternative sources of finance.
The treasury department said that details of predicted staff numbers and the amount of money that passengers would spend were considered unreliable.
The fact the business would profit without risking any money was also cited as a reason for rejecting the bid.
Bumblebee planned to run the service between France and the Channel Islands for the summer season.
The Treasury and Resources Department had previously expressed concerns about guaranteeing a private enterprise, which could risk taxpayers' money.
'Major obstacle'
Chris Meinke, from Bumblebee, said: "We understand that there is no precedent for the States guaranteeing a private concern such as this, but had hoped they would take note of the considerable potential benefits to Alderney's economy.
"It is almost certain that the opportunity to run a ferry in 2016 has now been lost."
Neil Harvey, chairman of the Alderney Policy and Finance Committee, said: "We are naturally disappointed at this outcome.
"We always appreciated that 100% finance of both the vessel and operations through subsidies was a major obstacle to the project."
The States of Alderney had approved the ferry service, which it planned to subsidise, but the loan required a guarantee from the States of Guernsey.
Guernsey is responsible for making decisions about a number of Alderney's public services, including health, criminal legislation and policing.
The details of this relationship, which began in 1948, are currently being reviewed.