L'Ancresse Bay anti-tank wall could be removed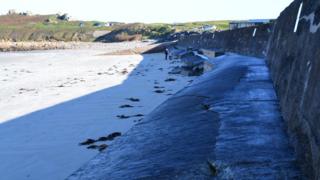 Part of a World War Two anti-tank wall could be removed at an estimated cost of £800,000.
A 200m (656 ft) section of the defence, built by German forces at L'Ancresse Bay, has been eroded by strong winds and waves.
It had previously been reinforced with concrete, but the Environment Department said the wall is "now considered beyond economic repair".
The department plans to carry out the works in spring 2016.
A small kiosk at the end of the eastern slipway may also be demolished.
Barry Brehaut, Deputy Minister for Environment, said: "When that wall at some point in the future is removed and we have a larger expanse of sand, and we have a natural sand dune and bank, then we could re-site the kiosk."
Protective beach landscaping, rather than rebuilding the wall, is being discussed as a replacement flood defence.
Land to the south of L'Ancresse Common behind the bay is unlikely to be affected by coastal flooding for another 50 years, according to a 2012 report by consultants Royal HaskoningDHV.
Sand drifting away from the wall base, which is unsupported by foundations, has also caused the eastern part of the defence to deteriorate.
The Channel Islands were occupied and heavily fortified by the Nazis during World War Two.