Tractor from 1948 returns to Rodney Dyke on Guernsey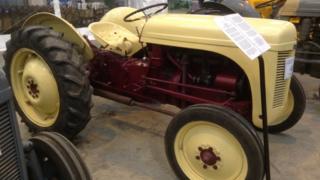 A tractor first bought at an agricultural show in Guernsey in 1948 is returning to the island.
The Ferguson TE-A20 tractor was first bought at the West Show by Douglas Dyke, who kept the vehicle until 1963.
Now his cousin's son, Rodney Dyke, has bought it for £4,000 and will take it to the West Show once more.
The tractor was taken from Guernsey to the UK in 1983 by Paul Cleminson, a collector from Darlington.
Mr Dyke, now president of the West Show, said he was "very pleased" with the purchase made through an auction in Norfolk.
The 1948 West Show was the first major agricultural event to be held on Guernsey following World War Two and the German occupation of the island.