French fisherman still missing after 'major' search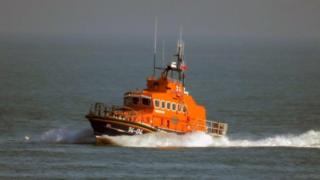 A French fisherman is missing despite a "major search" involving Alderney's lifeboat and a French warship.
The 59-year-old skipper, who has not been named, fell overboard about three miles north-west of Normandy's Cap de la Hague on Wednesday.
His crewman threw a life ring, which was later found by the Alderney lifeboat Roy Barker I eight miles from where the man fell.
The lifeboat was stood down at 17:50 GMT after nothing more was found.
The crewman on board the vessel was taken to Braye Harbour yesterday afternoon.
Alderney harbour master Mark Gaudion said: "With adrenaline, it takes some time for this sort of thing to hit home.
"He had to call family members of the crewman that was lost, so it was a distressing time for him."
The international operation was co-ordinated by the French coastguard.
It also involved a number of French rescue and military vessels and Channel Island Airsearch.
The 10-metre-long catamaran had been sailing from Omonville back to her home port of Portbail when the skipper fell overboard.