Sark Tourism Committee says visitor numbers are stable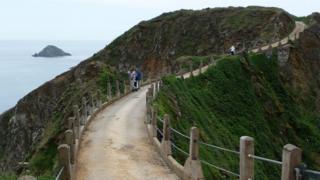 There is "no slump" in Sark tourism and visitor numbers are "stable", the island's tourism committee has said.
Visitor officer Karen Adams told the BBC that summer season visitor numbers were not decreasing.
The comments followed claims made by the President of Sark's Chamber of Commerce that the island was heading towards "economic oblivion", after one of three general stores closed.
Mrs Adams said the other stores appeared "to be doing very well".
While most visitors came to the island between March and October, Sark's status as the world's first Dark Island Sky attracted stargazers in the winter, Sark Tourism Committee said.
Records kept by the Visitor Centre show that there were 55,359 journeys made to Sark from Guernsey and Jersey between March and October 2015.
The committee said these were comparable to the 55,610 journeys made in 2014.