Guernsey Little Chapel closes 'for months' for work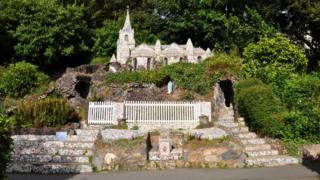 One of the world's smallest consecrated chapels has closed for "major structural work".
The Little Chapel, in Les Vauxbelets, St Andrew, Guernsey, measures 16ft (5m) by 9ft (3m) and will be shut for "a number of months" for the work.
Last year, cracks started appearing in the structure which were blamed on subsidence.
The length of closure is not clear in what is described as the "first phase" of a "restoration project".
The chapel is the third on the site, all of which were built by Brother Deodat, who was among the monks who moved to the island after France banned religious schools.
He was inspired by the Massabielle grotto at Lourdes.
Michael Fattorini, a trustee of Blanchelande College, the custodial guardians of the Little Chapel, said: "The initial works follow careful investigations undertaken over the last couple of years.
"The chapel was originally built in 1914 [and] has been rebuilt twice, but gradually, over a number of years, deteriorated to the point where major structural work is required to make the building safe for the many thousands of visitors who enjoy it each year.
"No charge is made to visit the chapel and we have survived purely on donations."
He said the Little Chapel is "dear to many islanders' hearts" and to "fully realise the historic potential... and safeguard its long-term future" a fundraising campaign would be announced shortly.
---
The Little Chapel
Is the third and largest of three built on the site
The original was built in 1914 by Brother Deodat and was 9ft (3m) by 4.5ft (1.4m) wide. He demolished it following criticism
He built a second within four months, which measured 9ft (3m) by 6ft (2m), however, when the Bishop of Portsmouth visited in 1923, he could not fit through the door
Brother Deodat again demolished his creation and started to build a third, but went to France in 1939 and died there having never seen the finished chapel
He had collected pebbles and broken china to decorate the shrine
However, when the chapel was featured in a national newspaper donations started to come in from around the world
---