Record year for cruise ship passengers in Guernsey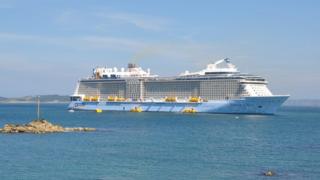 Guernsey had a record year for cruise passenger numbers, according to the harbour director.
A total of 123,000 passengers went ashore - an increase of 20% from the year before, Sarah McGreevy said.
She defended the decision to move the disembarkation point from White Rock to Albert Pier, despite criticism about traffic and parking problems.
Ms McGreevy said the figures "bare out how successful the move has been in servicing the industry".
A growth in the cruise ship industry on Guernsey meant the previous location did not have enough capacity and there was "significant safety issues" in bringing visitors ashore at the inter-island quay and into the commercial area of the harbour.
However, critics said arrangements for coaches picking up passengers from visiting cruise ships proved "impractical" as there were fewer car parking spaces at Albert Pier.
Ms McGreevy said "she hopes critics of the move can see they've worked hard to resolve any issues" and that "the move has helped" to get more cruise ship passengers to Guernsey.
"In moving over to the Albert Pier we've been able to protect the growth that we've seen in the cruise liner industry," she added.
"We've been able to facilitate a record year without having any cancellations due to our own facilities. We've actually had less cancellations this year than we had last year."
"It was quicker than we would have liked, but this bares out how successful it's been in servicing the industry."