Guernsey Lieutenant Governor Air Marshal Peter Walker dies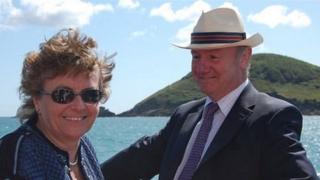 Guernsey's Lieutenant Governor, Air Marshal Peter Walker, has died.
Sir Richard Collas, Bailiff of Guernsey, said AM Walker "passed away suddenly" early on Sunday, aged 65.
"Our thoughts and prayers are with his wife, Lynda, their three children and their families," he said.
As lieutenant governor of the Bailiwick of Guernsey since 2011, AM Walker represented the Queen in the islands which include Sark and Herm.
AM Walker, who lived in north Devon before his appointment, served as a fighter pilot and worked in a number of senior roles in both the Royal Air Force and NATO during his 32 year career in the forces.
He was president of the Aircrew Association and vice-president for life of the European Area of the Royal Air Forces Association.
Since arriving in Guernsey, he had been a great supporter of local causes and was the patron of a number island charities.
Sir Richard said: "It was dreadful news to hear this morning. As I understand it, he and his wife Lynda were at a function last night and he went to bed and passed away during the course of the night. It's a complete shock for everyone.
"He and Lynda have been in the island for just over four years now and they have thrown themselves, heart and soul, into the life of the island."
'True friend'
Former Bailiff Sir Geoffrey Rowland said: "My immediate feeling is of shock, grief and a real sense of loss.
"I am in absolutely no doubt that there will be widespread and profound grief in each of the islands of our bailiwick and our thoughts and condolences go out to Lynda, his two sons and his daughter.
"For me, I have lost a true friend, and so many islanders will be feeling exactly the same. Our bailiwick has lost a respected and revered lieutenant governor."
Guernsey Chief Minister Jonathan Le Tocq tweeted: "Sad to awaken this morning to the news of the untimely death of our Lt Governor HE Peter Walker. Our prayers are with his family."
Jersey Assistant Chief Minister Philip Ozouf tweeted that he was "very sorry" to hear of AM Walker's death.
Channel Islands Air Search tweeted: "He was a great supporter of our service, and our thoughts are with his family at this sad time #RIP."
Nicholas Legg of Guernsey Football Club tweeted: "Sad to learn of the passing of His Excellency Air Marshal Peter Walker, Guernsey's Lieutenant Governor. A lovely man. Love to his family."