Guernsey designer of New Zealand flags inspired by travel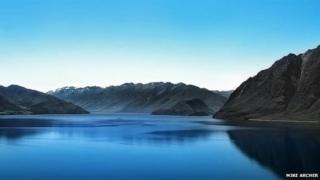 A love of travelling in New Zealand inspired a Briton in his designs, which have been shortlisted as a possible replacement for the country's flag.
Mike Archer, a digital designer from Guernsey, has two designs in the New Zealand Flag Consideration Project.
"I love the New Zealand people, the landscape," he said.
"It's a once in a lifetime opportunity. I wanted to give something back... it's a fantastic project to be involved with."
Both designs are called The Land Of The Long White Cloud, with one Traditional Blue and one Ocean Blue.
Mr Archer said the Ocean Blue design was inspired by "standing at the top of the North Island where the Tasman Sea meets the Pacific Ocean".
"There was a beautiful turquoise colour, on a beautiful blue day, and it just kind of etched into my mind and so that's the kind of blue I opted for."
Mr Archer said he had been "lucky enough" to visit New Zealand three times and it was on his last trip in 2005 he started in digital design with a course in Auckland.
---
The Land Of The Long White Cloud - Traditional Blue
Mike Archer said his inspirations included:
The Southern Cross - the stars or anchor that guided Maori and early European voyagers to New Zealand
The Pacific Ocean is represented by the deep blue
The Pacific Ring Of Fire is represented by the red colour and is approximately on the same angle of The Ring Of Fire that passes through New Zealand
Silver Fern represented by white
---
Mr Archer admitted it was difficult to choose a favourite from his two designs.
"If I had to chose one… I would probably say the Traditional Blue version, as I feel it ticks the box of being unique to New Zealand and is also extremely sensitive and respects the current flag and everything that goes with it."
Four of the 40 designs are due to be shortlisted in September with a final choice made by referendum. Another referendum will be held to decide between the chosen design and the current flag.