States could 'step in' if Liberation ferry problems continue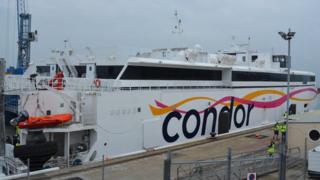 A new ferry service controlled by both Channel Islands' governments could be launched if problems continue with the current sole ferry provider.
Guernsey States Deputy Matt Fallaize raised the possibility following problems with Condor Ferries new £50m Liberation vessel.
He said the States have an "obligation" that the services are provided.
Condor Ferries said its service "has been improving steadily as we put early teething troubles behind us".
Since launching its vessel in March, Condor Ferries has cancelled about a dozen sailings on the Liberation because of technical issues and high winds.
Deputy Fallaize said: "This is a lifeline ferry service.
"It is absolutely essential we have a reliable and high quality frequent service."
He said he "very much hoped" Condor Ferries could "put right the problems", but if the company could not, then "there might come a time when the States have to step in more actively".
Alicia Andrews, executive director of commercial at Condor Ferries, said: "To date, Liberation has completed over 90% of her permitted sailings, two thirds of which have been early or on time.
"Setting aside the berthing incident, there has only been one cancellation within permitted operating limits [caused by a faulty bow thruster].
"Importantly, Condor Ferries has always met the terms of its service level agreements with the Channel Islands."