Oyster farmers say Guernsey sewage system is "Europe's dirty secret"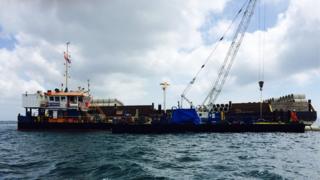 Oyster farmers calling for a sewage treatment works on Guernsey say the island is "Europe's dirty secret".
Guernsey Sea Farms said the island needed such a system which was "just part of being in the 21st Century".
A £19.9m project is going on to replace Guernsey's two current sewage outfalls, which are expected to fail during the next 10 years.
The Public Services Minister is rejecting the renewed calls for a treatment works.
Work to install replacement pipes was approved after the States heavily rejected another call to introduce sewage treatment.
Mark Dravers, managing director of Guernsey Sea Farms, said the improvement work had been welcomed, but was not the best way forward:
"I think it's a great shame they didn't opt for sewage treatment. Guernsey's the dirty secret in Europe," he said.
"I think Guernsey has missed a trick here. We would like to see sewage treatment as a way of getting a handle on discharges generally because our hatcheries for oysters rely on the cleanest possible water."
It comes as work progresses on a multi-million pound upgrade of the longer outfall pipe, in Belle Greve Bay.
Guernsey's Public Services Minister, Scott Ogier, said: "Everybody can rest assured that the scientific analysis has been done and our bathing water quality is extremely high.
"It's a unique situation. It's a surprising and shocking situation, but that's what it is," he said.