Guernsey Town Quays trial traffic scheme to continue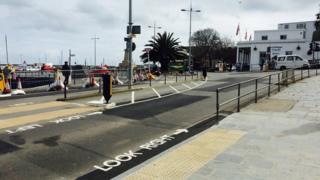 Changes to the traffic flow along the Town Quays should continue until the end of the summer, says Guernsey's environment minister.
Deputy Yvonne Burford said the trial, which started in March, needs longer to prove itself.
It follows concerns raised by Deputy Mary Lowe about traffic congestion.
Vehicles now merge between Crown Pier and the Town Church to allow for wider lanes on both sides and a central refuge point for pedestrians.