Guernsey cruise coaches moved to Albert Pier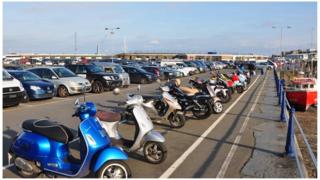 Arrangements for coaches picking up passengers from visiting cruise ships have proved "impractical", according to a Guernsey bus operator.
Coaches pick up from St Peter Port terminus under a move that sees cruise passengers land at the Albert Pier.
But this has been "impractical" said Island Coachways MD Hannah Beacom.
From Friday coaches will collect passengers directly from Alber Pier. At these times there will be fewer car parking spaces at the pier.
Chief Minister Jonathan Le Tocq said: "The safety and the opportunity to offer [visitors] tours of Guernsey and access to all our attractions and amenities, is one of the good news stories."
He said it would also reduce the impact on traffic with fewer people crossing the main coast road.
It also means there will no longer be a need for taxi transfers of mobility impaired passengers the 200m from the pier to the terminus, which so far this year has cost the States £2,000.
When cruise passengers are coming ashore car parking spaces will be lost on the Albert Pier - ranging from 44 spaces to eight when small ships are visiting.
Jack Honeybill, from the Town Centre Partnership, said he felt more consultation with those affected including the parish officials and retailers was needed and he criticised changes to a system that had only been introduced in March.
Peter Creasey, MD of Creaseys, said the island needed to be careful about the costs of ongoing changes to the cruise ship arrangements.
Deputy Le Tocq said: "There is a small price to pay... it can help us in the future to build our visitor economy."
Mrs Beacom said: "There has to be compromises... but I think we felt as it was getting closer and closer to the height of the season that the area we've been given wasn't ideal."