Dornier purchase to help Alderney, says Guernsey minister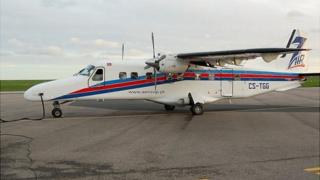 The purchase of a new plane will allow the aging fleet servicing Alderney to be retired, Guernsey's treasury minister has said.
Deputy Gavin St Pier said it meant States-owned airline Aurigny would be able to retire its trislanders.
Last year, the States agreed to guarantee loans for the purchase of three second-hand Dornier 228s.
Mr St Pier said enough second-hand planes had not been available so one new plane would be bought.
He said he planned to sign a memorandum of understanding with the airline that "fares will not increase as a result [of the purchase]".
Mr St Pier said: "The overriding factor must be the needs of Alderney and the wider Bailiwick."
The airline had hoped to replace its six trislanders by the end of 2015 due to the high maintenance costs and rising unreliability of the aircraft with an average age of nearly 40.
However, a lack of availability of "suitable quality" planes on the second-hand market has meant only one has operated any flights so far.
Mr St Pier said both second-hand planes should be in service by "the second quarter of this year" with the new plane due in "third quarter of 2015".
He said despite lower operating and maintenance costs the new plane would cost about £300,000 a year meaning Aurigny's loss on the routes from Alderney was expected to rise to £1m a year.