Iceland could be first shop to sell alcohol in Alderney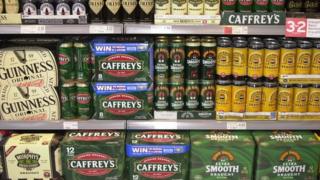 The States of Alderney is considering allowing a supermarket to sell alcohol in the island for the first time.
Sandpiper CI wants to invest £300,000 to open an Iceland store, but only if it is able to sell alcohol.
The States currently restricts alcohol sales to public houses and off-licences but has recently made moves to change the law.
Some islanders have raised concerns it could encourage underage drinking and would damage businesses.
Landlord of the Coronation Inn and Off-licence Mark Marriner, said the move would take money off-island.
"It will put us out of business, there's no doubt about it, we haven't got the buying power that supermarkets have got," he said.
"We have worked very hard to stop underage drinking and anti-social behaviour, you don't get much of that on Alderney."
Public consultation
Neil Harvey, chairman of the States' Policy and Finance Committee, said: "For many people in Alderney the cost of living is very high and access to cheaper food is a very important issue which some States members felt we should not turn our back on."
Mr Harvey said if the proposal were approved "there are some possibilities" to set a minimum price on alcohol in shops and in pubs.
Sandpiper CI closed its only shop in the island, Jean's Stores, last year.
A spokesperson for the firm said: "Implicit in any decision to open a new Alderney site would be an agreement that we would be able to sell alcohol as we currently do in both Bailiwicks."
The States of Alderney is holding a public consultation on the issue and is inviting people to voice their concerns.
If the plans get approved Sandpiper CI said it hoped to open by early autumn and employ at least 10 staff.