Citywing airline asked to run Alderney-Jersey route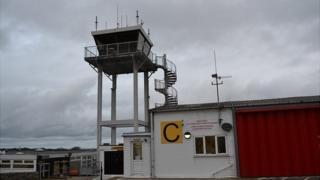 Citywing has been asked to fly between Alderney and Jersey under proposals from the States of Alderney.
The airline had proposed taking over all of Alderney's commercial flights in an exclusive five-year deal.
The Policy and Finance Committee agreed to invite Citywing to operate a seasonal service as it discussed four transport proposals.
A spokesman said reopening the part-time route could generate summer trade without conflicting with services.
Currently Aurigny is the only airline operating flights from the island - direct to Guernsey and Southampton.
Neil Harvey, the committee's chairman, said: "It is against the background of continuing problems with Aurigny, which we know they're doing their best to address.
"The way forward we see is through Aurigny getting adequate numbers of Dorniers here but with Citywing in particular we felt there was an opportunity."
Revised proposals from Bumblebee Boat Cruises to buy a larger boat to allow it to improve its services between Guernsey and Alderney were considered.
The committee felt questions remained over "one or two figures" in the plan, which would involve "a sizeable guarantee or loan" from the States of Guernsey.
It did not recommend pursuing plans for a fast ferry link between the island and Weymouth, due to the "financial risks" involved, which would fall upon taxpayers in Alderney.
A decision on plans for a new airline, from Alderney Pressure Group, to replace Aurigny was deferred until the Scrutiny Committee Report into strategic air services, due out in June, was available.