Guernsey parking space loss due to cruise ships 'may be limited'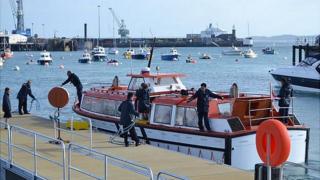 The loss of parking caused by changes to where cruise ship passengers land in Guernsey may only be temporary.
Plans to install a pontoon and remove 54 spaces on the Albert Pier to allow cruise tender to land passengers safely were approved on Friday.
Now the Public Services Department believes it may be possible to limit the loss of parking to only those days that cruise ships visit.
A spokesman said: "We are fairly confident we can find a solution."
He said legally changing areas between coach and car parking on an "ad hoc basis" may be possible, but they were working on the logistics.
Under the original plans, the revised parking arrangements would remain in place for the whole of the cruise ship season, which typically runs from mid-March to mid-September.
The plans include creating replacement parking spaces at the Crown Pier, Castle Emplacement and White Rock, although overall it would result in 11 fewer spaces being available.
If the proposals can be limited to just the days the cruise liners visit - expected to be 71 days during 2015 - it will mean an additional 40 to 50 spaces will be available in St Peter Port during the summer.
This year 140,000 cruise passengers are expected to come ashore, up from 105,000 last year, and the States estimates the total economic value of the cruise liner industry to be £6m a year.