Saumarez Park playground reopens after £200k upgrade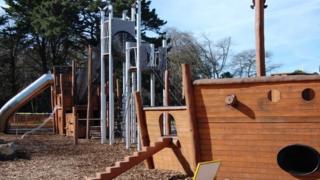 A Guernsey playground has reopened after a £200,000 upgrade.
The children's playground in Saumarez Park has been closed for almost 12 months while new equipment has been installed.
The upgrade includes a 20ft (6m) high, 95ft (29m) long pirate ship with climbing nets and walls, new toddler swings and a basket swing.
All the money has been raised by people and businesses in Guernsey.
Hazel Seymour, from the Friends of Saumarez Park Playground, said more money had to be raised to start work on phase two - the toddler zone - and phase three - the teen zone and about £25,000 had so far been collected.
The entire upgrade is expected to cost about £500,000.
Zef Eisenberg, from the friends group, said: "The result is superb. We believe the park should be a place where young and old can get fit and get out."