Guernsey residents warned free cancer drug 'a risk to health'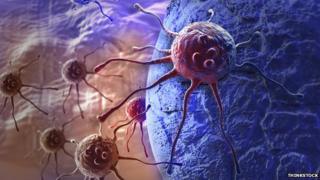 An unlicensed cancer treatment given out free to Guernsey residents "may pose a significant risk to people's health" a health watchdog has warned.
Blood plasma used to create the GcMAF drug was "not to be administered to humans", the Medicine and Healthcare Products Regulatory Agency (MHRA) said.
As a result, the MHRA has closed down production of the drug in a factory in Milton, Cambridgeshire.
David Noakes, boss of producers Immuno Biotech, said the MHRA were "liars".
'Seek doctor's advice'
More than 10,000 vials were seized following an unannounced factory inspection, which was carried out after concerns were raised by the medicines regulator in Guernsey.
Mr Noakes, who lives in Guernsey, has confirmed the drug has been given out for free to islanders.
As a result, Gerald Heddell, MHRA director of inspection, enforcement and standards advised any patients who are taking the drug to seek their doctor's advice "as soon as possible".
The agency has so far received no reports of side effects caused by the product.
However, Mr Heddell said: "Not only were the manufacturing conditions unacceptable but the originating material was not suitable for human use.
"GcMAF products labelled as 'First Immune' are not licensed medicines and have not been tested for quality, safety or effectiveness.
"People should not start treatment with these specific products."
The MHRA inspection concluded the production site did not meet good manufacturing practice standards and raised concerns over the sterility of the medicine being produced, the equipment being used and possibly contaminated.
Scientists 'top of profession'
The agency said its investigations were continuing and it was working with colleagues in other countries to alert them to the potential risks.
Mr Noakes' firm, which sells the product online from various websites, claims it can be used to treat a range of conditions including cancer, HIV and autism.
He rejected the MHRA findings, and described staff as "incredible liars" as well as accusing them of being "incompetent".
He said his company and its scientists were "at the top of our profession" and made sure everything was done to the "highest possible standards".
Mr Noakes claims the product was used by about 10,000 people around the world and about 100 at any one time in the Bailiwick of Guernsey.
However, Mr Heddell said: "The advice is, do not buy medicines online from an unregistered pharmacy as you don't know what you are getting, where it came from or if it's safe to take. The dose could be too high or too low, or the product may be contaminated."
---
GcMAF
Sold as First Immune, Globulin component Macrophage Activating Factor is controversial in cancer research circles
Proponents say the naturally-occurring protein stimulates macrophages (a type of white blood cell), which kills invasive cells and alert other immune cells to the presence of infection
They say natural production of GcMAF is blocked by an enzyme called Nagalase produced by many cancers, so injecting cancer patients with additional GcMAF activates the body's own immune system
Critics, including Cancer Research UK, have said there are "significant scientific problems" with trials
They say trial groups were small and patients were receiving conventional treatment as well
---